My husband and I both have online businesses, which means we are 100% dependent on being - you guessed it - online!
So when we decided to spend 3+ months traveling in Australia (which surprisingly enough, ranks very poorly in wifi strength), New Zealand and Southeast Asia, we clearly needed to have access to reliable internet.
Cell phone companies are notorious for having horrendously expensive portable wifi options, not to mention the limited amount of data you can use before they bump the price up on you so before I even looked into it, I knew I was going to have to find an alternative solution.
I did a LOT of research scouring the interwebs and the best option I found was Tep Wireless, which is what I ended up going with and am SO glad I did.
COUPON CODE: If you order your own Tep Wireless device, make sure to enter inabsoluteawe to receive 10% off!
Here's a rundown of what you get with Tep Wireless:
The wireless device: It's a thin, lightweight device that is super easy to use.

A short USB cord to charge the device that doesn't take up too much space

A handy dandy user guide

A worldwide adapter with both a plug and USB ports that you can use for other devices, as well. This adapter rocks for a few reasons:

Its size: It's thin, which means it can plug in next to other plugs. I don't know if they did this on purpose, but it's genius as you wouldn't believe how many other worldwide adapters are too bulky to have two plugged in next to each other.

It has both a plug and a USB port, which means you can charge both the Tep and another device or even more devices if you, for instance, plug the Tep into the USB port, your laptop into the adapter plug and then your phone into the USB port in your laptop. Score!

The plug parts fold in when you're not using them, which means there's A) less of a chance they'll snap off in transit and B) allows it to lay flat in the bag

A perfectly sized, soft container that easily fits all of the above and won't take up too much room in your suitcase.
How does it work?
After pushing the on button, a welcome screen appears showing the country you are in, along with an option to start a session.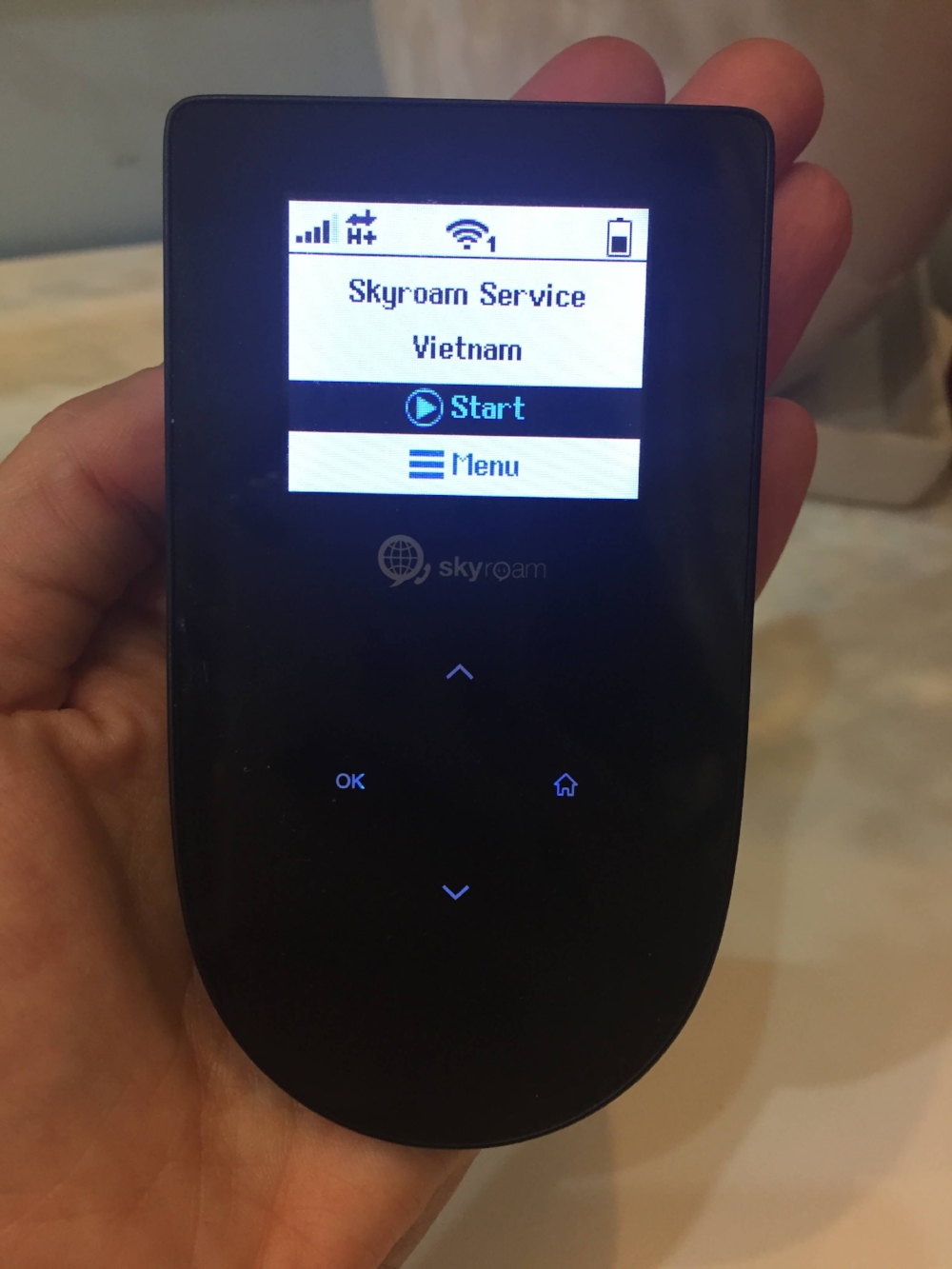 A confirmation message pops up to make sure you didn't hit start by accident.
Each session is 24 hours and there's a countdown showing how much time you have left. Scroll down for more info on costs for each session.
Once the Tep shows you are connected, go to your wireless settings on your laptop/tablet/phone and choose to connect to SkyRoam.
Up to five devices can connect at once. Extra bonus is that if you're traveling with friends, you can split the cost and you can all use it at once.
Just keep in mind all five devices are using the same data so the more connections, the slower it may be.
The manual mentions needing to enter in the password each time you log in, however I've actually only ever had to enter it into my device the first time logging in. If you do need to reenter the password, it's easily accessible on the main and only screen.
Did I mention it's unlimited wifi too?! After 500MB per day, it does slow down a bit, but slow wifi is better than no wifi, amiright?!
To Rent or Buy?!
Depending on your needs, Tep Wireless gives you the option to rent or buy your device.
Rent it:
If you only need a wifi device for a specific trip or you don't travel often, Tep gives you the option to rent the device.
In this case, you enter the details of your trip (where you're going, when you're going, for how long?) and they send you the device along with everything mentioned above prior to your trip.
After your trip, you simply drop it in the envelope provided with the pre-paid return label and throw it in the mail. You have two days after your rental period to send it back, which is nice since you don't have to worry about it right away.
Real talk: The daily rental price is $9.95, which I know ain't cheap and can definitely add up, BUT if you need internet access and don't have access to free wifi, this is frankly the best option I've found thus far!
Buy it:
If you travel often or long term, buying the Tep is a really smart option (and the one we chose!).
They aptly named this The Frequent Traveler option, and while you do put more money down up front, in the long run, it will probably be worth it.
To buy the Tep, you pay $99.95 for the device (plus all the other goodies I mentioned).
Your daily fee is only charged when you initiate a session; unlike renting, which is charged whether you use the device everyday or not.
It's also much lower at $8.00 per day. $1.95 less per day may not seem like a lot, but it adds up!
You also get three free days (a $24 value) so taking that into consideration, it's actually only $75.95 for the device when you think about it that way.
Buying it upfront also gives you:
The convenience of always having it and being able to turn it on whenever you need it.

The relief of not having to worry about remembering to rent it before a trip or sending it back.

The option to use it as a backup just in case wifi goes down.
Troubleshooting:
They make it super easy to contact their support team 24/7 via phone, email, chat or even WhatsApp!
REAL LIFE EXAMPLE: When we were in Australia, we had an issue where we needed to contact Tep's support team for help.
Despite the Tep showing we were in Australia, according to Google and Facebook, we were in Hong Kong. This was only the case while we were using wifi via the Tep; not with other wifi that was available.
While we would end up going to Hong Kong for a layover later in our trip, I can assure you we were most certainly not in Hong Kong at that time!
Now if everything was working as it should have been, I wouldn't have cared where the heck it thought we were, but the problem was that we couldn't connect to Facebook and as a major part of my husband's traffic comes from Facebook advertising, we needed to fix this ASAP.
Thanks to Tep's 24/7 support, we were able to get help, despite being on the other side of the world. I initially used the chat feature, then phone, then email so really got to test it all out!
Each support member that chimed in was fully up to speed on the challenges I was having, which was great as I didn't have to explain my issue each time.
As this particular issue had never happened to anyone before (lucky me!), the support team didn't have an immediate solution, but after some googling what others had done in the same situation, they were able to help us resolve the problem and get us reconnected.
(You're welcome if you ever have this issue with Tep, as the support team now knows what to do!)
My experience:
Aside from my imaginary trip to Hong Kong, I'm really happy with my Tep! We really wouldn't have been able to travel as we have been if we didn't have it so I'd definitely recommend buying or renting it, depending on what your situation is.
Have you used Tep Wireless or another global wifi device before? What has your experience been?
PS - All cards on the table, this article stemmed from a partnership with TEP Wireless. All advice and opinions are 100% my own! If this article was helpful for you, please buy or rent from this link to help me continue to do the research for you and give you my honest feedback!
Bonus: I even got you a discount! To get 10% off your rental or purchase of a Tep Wireless device, make sure to use the coupon code inabsoluteawe at checkout. High five!